Fiiish Power Tail Fresh Water Fast - 6.4 cm
Sorry, this item is temporarily out of stock
Fiiish Power Tail Fresh Water Fast 6.4cm, 12g - Qty 1
The Fiiish Power Tail Fresh Water is a wobbler/lipless crankbait like you have never seen before. The Power Tail does not have a diving shovel/lip in the front like the ordinary crankbait, but the patented "PTC" (Power Tail Concept) on the back. This unique innovation from Fiiish gives this lure a unique, lively and erratic action that is guaranteed to stir the interest of predatory fish.

The power tail concept 
The Power Tail is a patented concept, the innovation of which is the combination between the body and the paddle. The bait is as realistic as a real fish and the paddle gives it a hard, transparent swim fin. The paddle acts on the body to ensure that the descent is slowed down.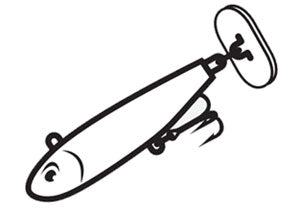 One-time lively action
The interaction between the body and the paddle gives the bait an extremely lively action underwater. The paddle causes the power tails to swim by themselves when they sink. The paddle sends out very strong vibrations that particularly appeal to the predator's lateral line and arouse curiosity about the bait.
Due to its slim shape, the Power Tail has excellent long casting ability and accuracy, also great for trolling as you can really see when the lure is working by the vibrations it sends up the line to your rod tip. A great all round lure for both deep and shallow fishing in fresh and saltwater.